Grant Bartlett Selected as Man of Condit 2015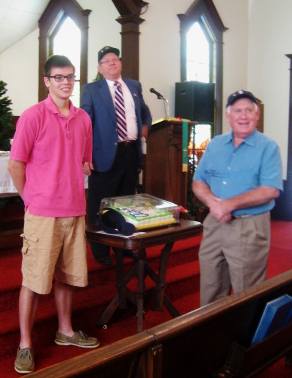 Rarely does a youth with natural leadership skills come along. It is difficult to be young and also hold a position of leadership in group of not only your peers but others who may be older than your grandparents.
Grant Bartlett is not only good leader, he is has been very active in all aspects of the church life. He has been active in Sunday School where he often play the devil's advocate which keeps the discussions going. He sings in the choir, rings bells in the bell choir and serves a a liturgist and usher as needed. He is a devoted member of the youth fellowship, has served as a Youth Elder for the congregation, and is very close to finishing his Eagle Scout for Boy Scouts of America.
In December 2014 he was officially sworn into the U.S. Army Reserve which allowed him to drill throughout his junior year in high school, go to basic training in the summer of 2015. Reserves will allow Grant to finish high school, train in more life skills following up on those learned through his Boy Scout training while earning money and paid assistance for college.
A truly outstanding young man honored
as 2015 Man of Condit by Trustee George Justice and Rev. Jeri-Lynne Bouterse