Alexander Francis Sheets, Man of Faith 2017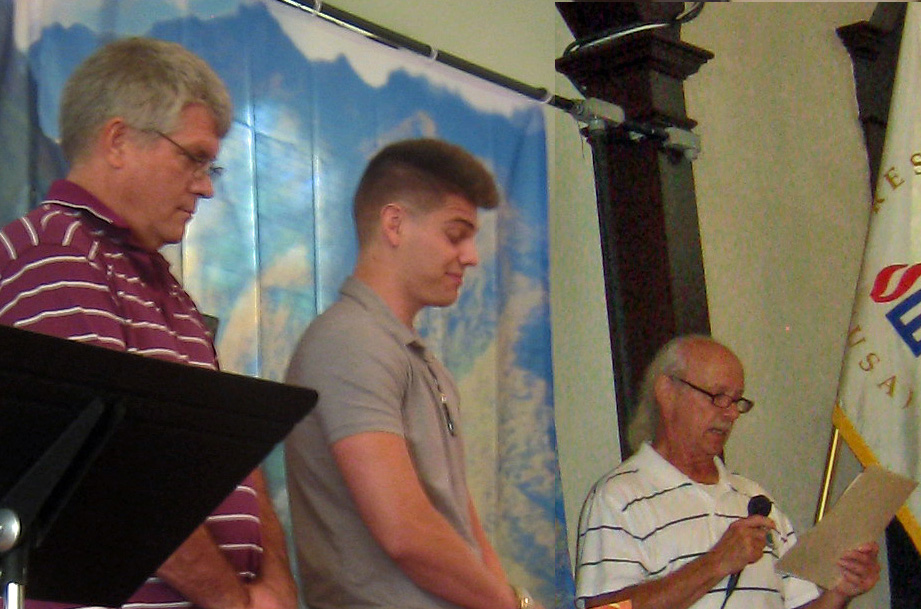 Mick Sheets, Alex Sheets, John Whitney
at Presentation of the Award during
Worship on Sunday, June 18
On Sunday, June 18, Alexander Francis Sheets was named Condit's Man of Faith for 2017. On Father's Day each year a members is inducted into this elite group of men.
Alex carries the middle name of his great-great uncle Charles Francis Clark.
He was baptized by Reverend Carol Weiss and became a member of Condit Presbyterian Church in 2008.
Alex volunteers for Big Brothers/Big Sisters of Central Ohio and is paired with Nazir, a seven year old boy.
As an active member of the Church he has been involved with the Youth Group and served as a crew leader at Vacation Bible School in 2016. Alex was elected to Elder in 2017 and is co-leader of the Special Events Committee. His is working on Condit's first Auto Show to be held at the church on August 5th.
Alex graduated from The Ohio State University in 2016 with a degree in Marketing and is employed in the Marketing Department at Highlights for Children magazine in Columbus.
His interests include baseball, basketball, listening to music, e-sports, water sports, and outdoor activities.
Fun Facts: Alex's favorite animal is a cheetah and he has touched one. His favorite fruit is strawberries and he has picked more in his life than 99.9999% of people in the world.