6 Blood Drives Scheduled for Condit in 2023
Condit Saves Over 3,000 Lives
Condit Blood Drives have saved 3,021 lives since it began in December 2014 as part of the New Beginnings Program for Condit Presbyterian Church. We have saved 1,000 lives every 3 years.
"Blood Drives are one way a small church can help save people's lives," commented the pastor of Condit Presbyterian Church. Condit hosts 6 blood drives a year in the Fellowship Hall as one of their missions.
Unfortunately only 8% of the eligible donors give blood.
This means the Red Cross is getting less blood than is needed.
People return to give blood at Condit because we treat our donors as guests in our home and look forward to seeing them in 2 months.
October 13

December 8
Total Collected at All Condit Drives
2014 One Drive = 23 pints, 69 lives
2015 Four Drives = 87 pints, 261 lives
2016 Six Drives = 127 pints, 381 lives
2017 Six Drives = 121 pints, 363 Lives
2018 Six Drives = 123 pints, 369 Lives
2019 Six Drives =124 pints, 372 lives
2020 Five Drives = 101 pints, 303 lives
2021 Six Drives = 123 pints, 369 lives
2022 Six Drives= 131 Pints. 393 lives
2023 Five Drives = 131 pints, 393 lives

F
Next Blood Drive Scheduled for
December 9

Sign-up to Donate by email
You Can't Give Blood, Want to Help
Karen Kerns post drive signs around the community. Polly Horn co-ordinates the drives with the American Red Cross and helps people be comfortable with donating blood. GiveBlood@ConditChurch.org
Laura Mucci first time donor on February 16, 2018 with mother Donna who has been a regular donor and volunteer since the first Blood Drive in 2014.
Gail Russell donated blood for the first time on February 16th, 2018.
Welcome 1st Time Donor
Britney Curren on October 7, 2022
His Blood May Have
Saved 300 Lives
Dave Orndorf gave his 100th pint of blood at the Condit Drive on August 14 to earn a Century Club T-Shirt from the American Red Cross.
After years of giving his special blood which was needed for babies, Dave had some health issues which put him on a blood thinner so he was unable to donate. "It felt good to give the 100th," noted Orndorf.
Polly Horn, coordinator of the Condit Blood Drives, presented the T-Shirt to Dave. "I'll wear it proudly," he responded.
FIrst-Time Donor Grant Bartlett
at First Condit Blood Drive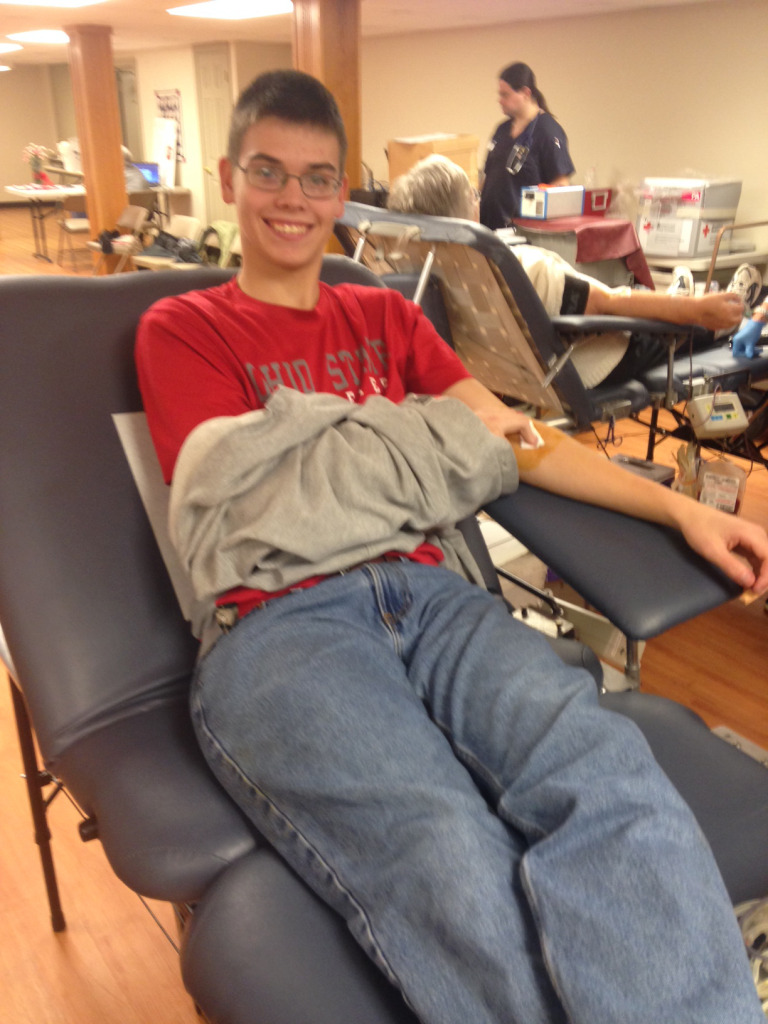 First Time Blood Donor, Ali Markley, at the Condit Blood Drive on February
12, 2015
First Time Donor Jim Lahmon April 14, 2017
First Time Donor Scott Streng October 19, 2018